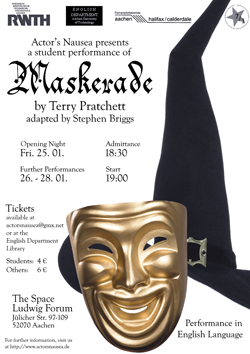 Our early productions
"Maskerade"
by Terry Pratchett, adapted for stage by Stephen Briggs
Winter 2007/2008

Welcome to Ankh-Morpork Opera House, full of glamour, romance and fat men playing lusty heroes! A place that can make you mad… Here, the romantic sparkle of illusion counts more than mere realism. Or common sense, for that matter. This is the world young Agnes Nitt, stage name "Perdita X", enters in search of a career as a singer. And these are the strange people she meets there: starlet Christine, enough of a diva but totally devoid of talent; the artistically ingenuous manager Seldom Bucket; the musical director Mr Salzella, ever frustrated about his fellow men's ignorance; chorus master Mr Underschaft, whose mind still dwells on the past glories of the opera; daft odd-job man Walter Plinge. Not to mention bitchy ballerinas, suspiciously curious organists and hoggish tenors.
"Arsenic and Old Lace"
by Joseph Kesselring
Winter 2005 – Summer 2006

Mortimer Brewster hates the theatre. An attitude that makes his job as a dramatic critic the more tedious. "When are playwrights going to use their imagination?" he complains, unaware of the story his own life has waiting for him. When he discovers a dead body in the house his aunts Abby and Martha live in, he immediately suspect his brother Teddy. But the critic is mistaken. Although Teddy is totally convinced of being incumbent President Roosevelt digging up the Panama Canal in the cellar, he is no murderer. Known and liked everywhere in their community as great benefactors, the two aunts have made a habit of freeing elderly, lonesome men from their earthly trials. Out of compassion, of course. And so it is clear that mere murder if out of the question. No, the tasty glass of elderberry wine with just that little bit of poison in it is "one of our charities." But things are different with Jonathan Brewster. Runaway murderer as well as vain poseur, Jonathan of all things chooses his aunts' house as a hideaway; in tow his accomplice, plastic surgeon Dr Einstein, and his latest victim, Mr Spenalzo. And while Mortimer is still trying to hide everything from his fiancée Elaine, a competition between his murderous brother and his charming aunts is about to start. Who is the more successful murderer?
"Wyrd Sisters"
by Terry Pratchett, adapted for stage by Stephen Briggs
Winter 2004 – Summer 2005

When Duke Felmet murders his cousin, King Verence I, his faithful escaping servants give his crown and his baby to the three witches Granny Weatherwax, Nanny Ogg and Margrat Garlick. The witches hand both to a group of travelling actors, convinced that in the end destiny will fulfil itself and the baby Tomjohn will grow up to become King himself. But who has time to wait for 15 years? The witches certainly do not and so they start meddling…
"Pilk's Madhouse"
by Ken Campbell
Summer 2004
"Who is real in this hall of mirrors?" is the central question of this plays. In 17 scenes it is shown that the world is really a madhouse, full of dramatic, paradox and absurd British humour.
"God"
by Woody Allen
Winter 2003/2004
The play starts off with the famous Nietzschean quote "God is dead!" "God" deals with the difficulty of being a playwright.
"Poetry in Motion"
An Actor's Nausea original production
Summer 2003
For this special performance, the members Actor's Nausea chose, wrote and stages literary texts. Personal, surprising, entertaining.
"Bums on Seats"
by Michael Snelgroves
Winter 2002/2003

While the ensemble of the Theatre Royal prepares fort he next performance of "Fecund", new Marketing Manager Estelle Nettlebank has to realise that the world of acting is not quite what she expected. Struggling for sanity, Estelle encounters an overly ambitious actor, a lecherous playwright, snobby patrons and meddling sponsors that make her wish pretty soon she had her old job back. Not to mention a suicidal rabbit…
"Politically Correct Fairy Tales"
by James Finn Garner, adapted for stage by Actor's Nausea
Summer 2002

James Finn Garner re-tells well known fairy tales. In an emancipated and politically correct manner he addresses the issues of the modern day world in a fairy like setting.
"Joseph Andrews"
by Henry Fieldings
Winter 2001/2002
Lady Booby is attracted to the intelligent villager Joseph Andrews and hires him as a footman. But Joseph is in love with Fanny Goodwill, a country girl, and when her husband dies on a trip to Bath, Lady Booby has to realise that Joseph's love for Fanny prevents her from getting what she wants. She fires Joseph who gets robbed on his way back and rescued by an innkeeper's maid. And with that, his adventures have just begun…
"Opposites Attract"
by Bruce Kane
Winter 2000 – Summer 2001
"Opposites Attract" is a comedy on everything a relationship can offer: about love and romance, envy, therapy, bad sex, good sex and letting go.