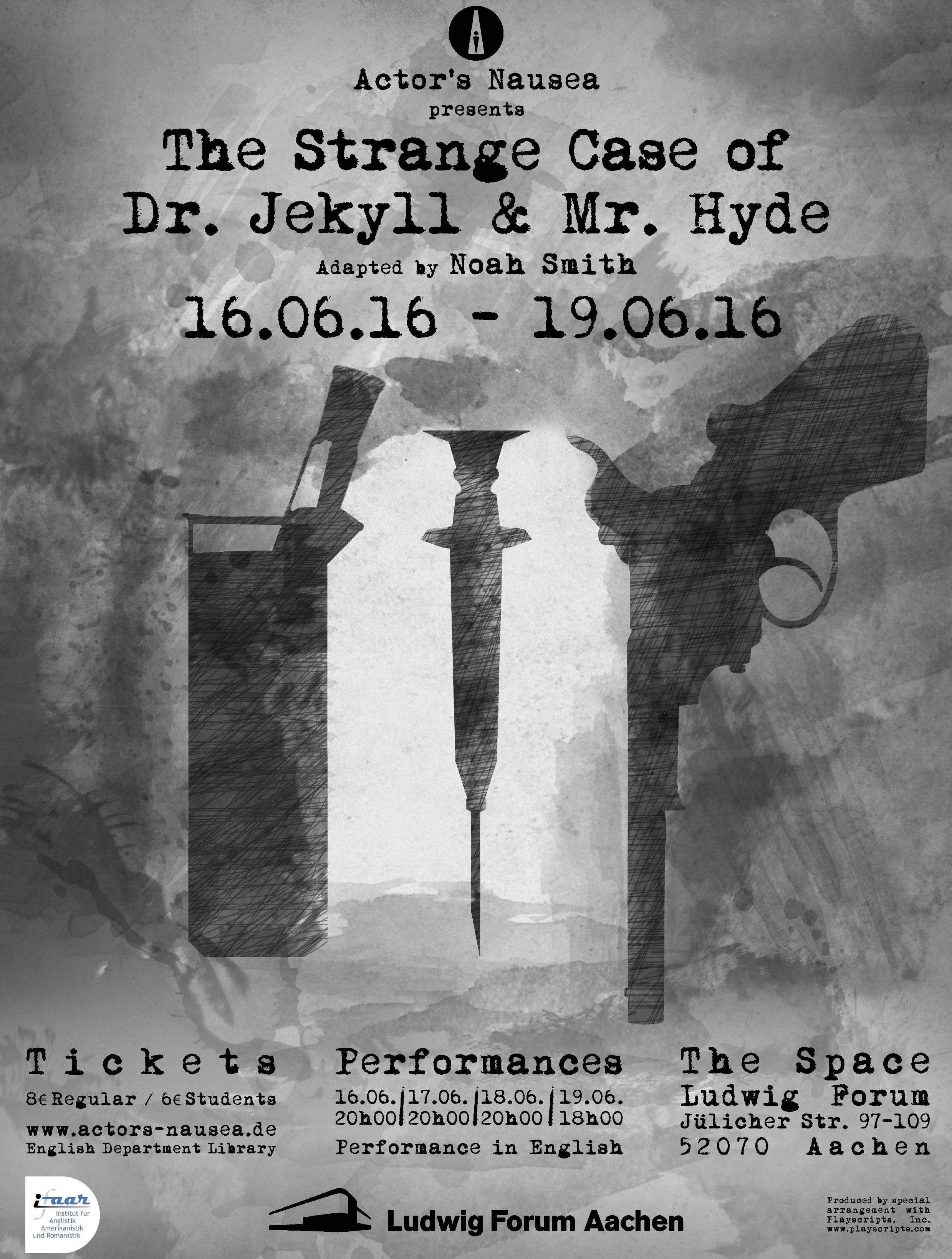 The Strange Case of Dr Jekyll and Mr Hyde
by Robert Louis Stevenson, in an adaption by Noah Smith
On June 16th, 17th, 18th and 19th, 2016
London, in the year 1888. Dr. Henry Jekyll, a respected scientist, publishes an article with a content so unbelievable that his fellow scientific colleagues can do nothing but dismiss it: Jekyll claims to have found a drug able to bring men's "inner evil nature" to life – a drug that can wash away all social constraints and allow man to live their desires freely. Even his best friends, Dr. Hastie Lanyon and Gabriel John Utterson, do not believe in Jekylls formula. – Until an alleged assistant of Jekyll's, the mysterious Edward Hyde, appears on the scene and seemingly unconnected murders start shaking up London. Who is this Mr. Hyde?
With Dr. Jekyll ad Mr. Hyde, Robert Louis Stevenson created a classic of world literature, an intriguing mystery thriller full of philosophical questions: Does men's inner nature have the right to express itself? And may we, or must we even, support it in its efforts? What rights do men have regarding their desires? And what if these desires start claiming their rights? Actor's Nausea explores these topics in Noah Smith's contemporary (2003) adaption set in Victorian London.
Directed by
Elisabeth Raasch
Assistant Director: Néomi Havinga
Cast
Dr. Henry Jekyll / Edward Hyde – Marcos de Luis Bolinaga
Maid – Katharina Hirsch
Butler – Katharina Kröcker
Dr. Hastie Lanyon – Jens Wischnewsky
Gabriel John Utterson, Esq. – René Glebke
Richard Enfield – Pepe Sánchez-Molero
Helen O'Neill – Eva Johanna Onkels
Cybel – Christine Knorr
Mr. Poole – Julian Steinbock
Organisation
Costumes, Make-up and Hair
Katharina Hirsch, Katharina Kröcker
Christine Knorr, Eva Johanna Onkels, Luzia Onkels
Stage
Marcos de Luis Bolinaga, Pepe Sánchez-Molero
Props
Light, Sound and Effects
Matthias Schaffrath
Language Training
Louis Morris
Public Relations
Katharina Kröcker, Eva Johanna Onkels
Posters and Programme
Marcos de Luis Bolinaga
Thomas Michalski
Box Office, Bar and Stage Hands
Lars Raasch, Bianca Schüller
Sincere Thanks To
Everyone suporting us with dedication every day!
Gallery