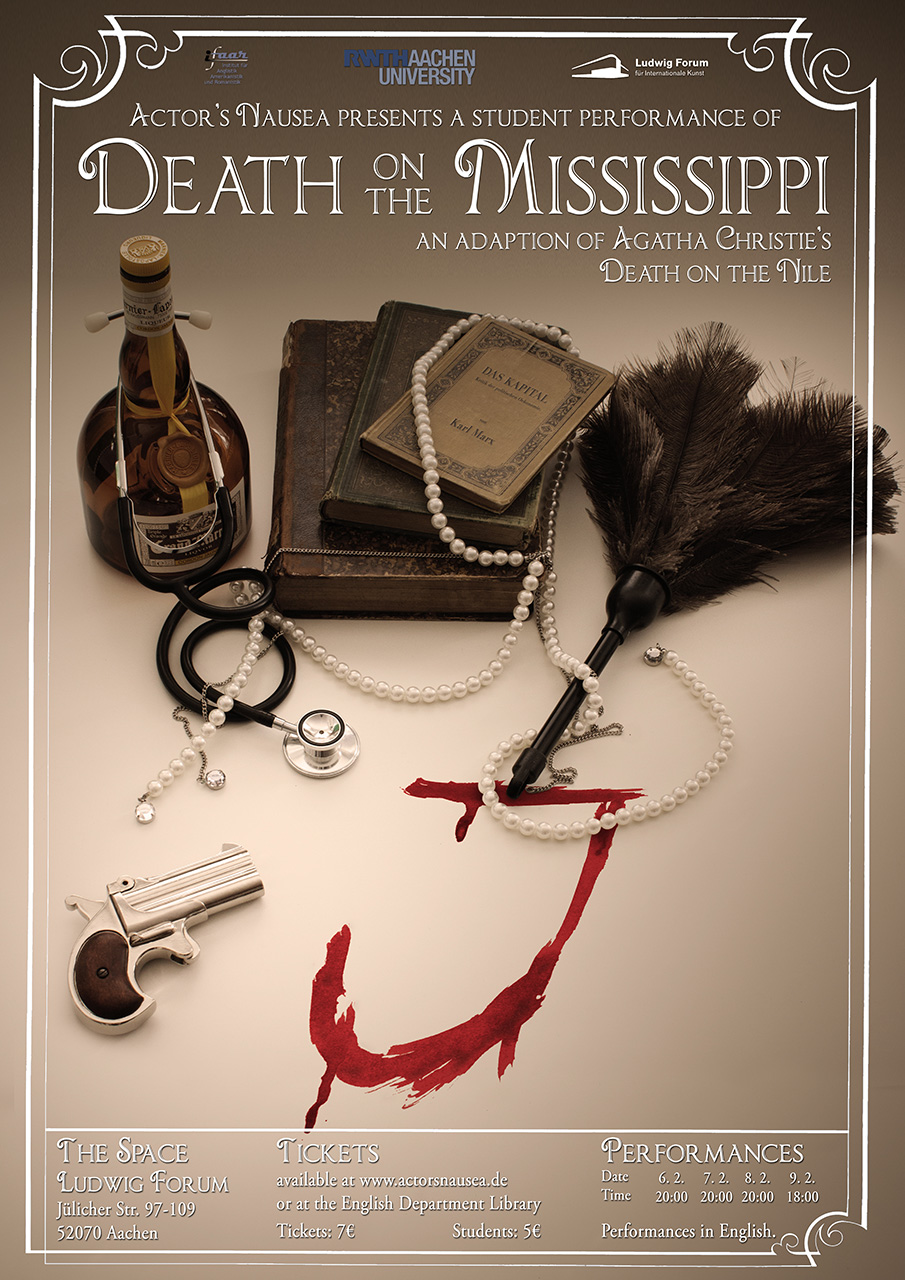 Death on the Mississippi
(An adaption of Agatha Christie's "Death on the Nile")
Spring 2014
1937, on a steamer cruising the Mississippi. Young millionairess Linnet Ridgeway and her husband Simon Doyle are on their honeymoon. Unfortunately, the ship's passenger list is full of unpleasant surprises: there is imperious Mrs. Van Schuyler who would like nothing more than to lay her hands on Linnet's jewels. Obnoxious Swiss physician Ludwig Bessner is furious that Linnet publicly spoke ill of his skills, and Linnet in turn has been suing eccentric novelist Salome Otterbourne for libel. To make everything worse, they are being stalked by Simon's resentful ex-fiancé Jackie. If Jackie cannot have Simon, then sure as death no one is. There are more passengers, and most of them have good reason to detest the young couple.
Finally, there is a celebrity among the passengers: famous detective Hercule Poirot. Though she has only come to spend her holidays, she is soon forced to investigate into criminal misdoings. But is she prepared to deal with MURDER?
Ship's Manifest
Captain: Tatiana Kutz (Director)
First-Mate: Julia Glock (Assistant director)
Passengers:
(in order of boarding)
Gossips: Anne Ruh, Natasha Petrova
Barnstable: Susanne Evans
Linnet Ridgeway (Doyle): Charis Luvangadio
Jacqueline De Bellefort: Katharina Hirsch
Louise Bourget: Christine Knorr
Simon Doyle: Jonas Freiwald
Andrew Pennington: René Glebke
Timothy Rockford: Anne Ruh
William Carmichael: Susanne Evans
Colonel Race: Tilman Floehr
Salome Otterbourne: Sonja Kellermann
Rosalie Otterbourne: Ye Yuan
Marie Van Schuyler: Néomi Havinga
Miss Bowers: Kathy Kröcker
Hercule Poirot: Julia Fink
Dr. Ludwig Bessner: David Lorch
Mr. Ferguson: Nina Neidhardt
Mrs. Maple: Susanne Evans
Charlotte Westscott: Anne Ruh
Voodoo-Priesterin: Natasha Petrova
Statist: Jens Wischnewsky
Crew:
Costumes
Anne Ruh, Cast
Make-up & Hair
Kathy Kröcker, Katharina Hirsch, Tatiana Kutz
Stage
Sonja Kellermann, Susanne Evans, Cast
Props
Christine Knorr, Cast
Lights, Sound & Music
Matthias Schaffrath, Tatiana Kutz, Julia Glock
Public Relations
Charis Luvangadio, Julia Glock
Posters & Programs
Thomas Michalski, Tatiana Kutz, Julia Glock
Texts
Finances & Homepage
Tickets & Bar
Elisabeth & Lars Raasch, Stefan Graf, Malte Güldenberg, Lukas Hensel, Christiane Kessel, Tobias Grosskreutz, Carlson Klugas
Sincere thanks to
Alexandra Becker and the Team of Hochschulradio Aachen, Thomas Bender, campuslife.de, Manuel Collas, Condra e.V., Design AG des Gymnasiums Haus Overbach, diedruckerei.de, Rolf Everding (WEG Merowinger Residenz), Martina Feldhaus (Aachener Nachrichten), Tobias Grosskreutz, Prof. Dr. Uwe Klemradt, Gerda Lachmann, Hans-Peter Leisten (Aachener Zeitung), Ludwig Forum für Internationale Kunst, meinestadt.de, Sandra Meis (Kulturbetrieb der Stadt Aachen), Thomas Michalski, Prof. Dr. Markus Morgenstern, Beate Nagel, Jürgen Osthoff and the Library Crew (Bibliothek des Instituts für Anglistik und Amerikanistik der RWTH Aachen), RWTH Aachen Institut für Anglistik, Amerikanistik und Romanistik, Prof. Dr. Ludwig Deringer, Prof. Dr. Peter Wenzel, Ulrike Stalinski
…and everyone supporting us with dedication every day!