Kill Me, Deadly
June, 21st – June, 24th 2019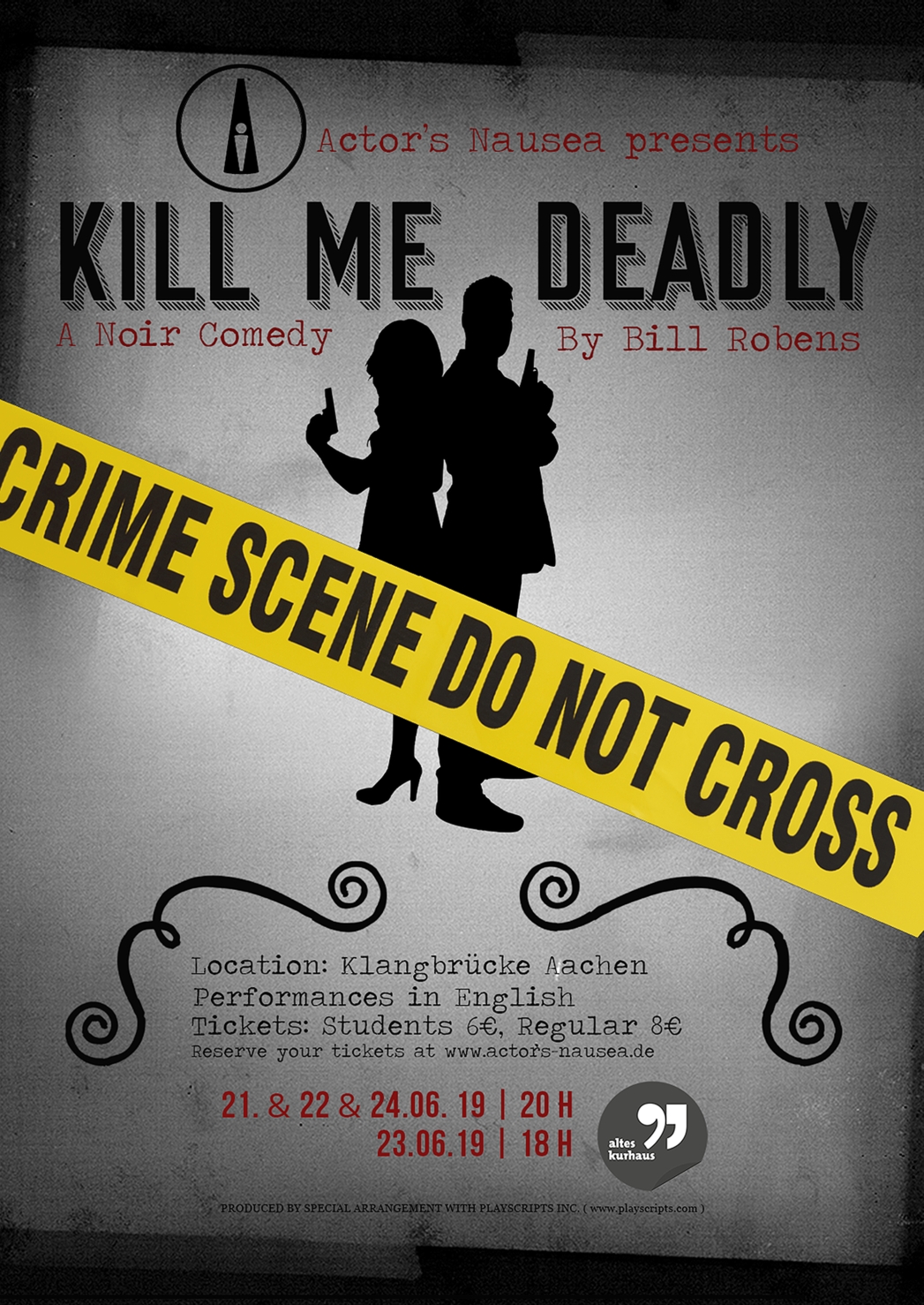 Quiet jazz music and singing can be heard from a bar, dark figures strolling through equally dark, smoky alleys. A car door slams dully, a Buick LaSalle rushes past, somewhere in the distance you can hear the sound of the sea. The famous Hollywood letters float above all of them, as prophetic as they are threatening. In this world, the Los Angeles of the 40s, lives and works private detective Charlie Nickels, who has to solve the murder of an old lady. A complicated undertaking, because everyone who had contact with the lady has a strong motive for murder…
Bill Robens' "Kill me, deadly" enchants not only fans of this genre with a lot of noir-feeling and a fantastically beautiful text. The us-American author mixes the ingredients of a classic Crime Noir Story with modern comedy, works with both genres and manages to never let his play lose the necessary seriousness despite parodistic interludes. A must for all Crime Noir fans and those who want to become one.
When: Friday, June, 21st until Monday, June 24th, in the evenings (Fri, Sat, Mon: 20:00, Sun: 18:00)
Where: Klangbrücke, Altes Kurhaus (near "Bushof" main bus station), Aachen
You can now reserve tickets for our performances online by clicking on this link (opens a new tab).
We look forward to welcoming you to our performances of "Kill Me, Deadly"!
---
Dear friends and followers of Actor's Nausea,
we are glad to hear that you enjoyed our latest play Nightfall with Edgar Allan Poe and our performances at the RWTH Science Night "5 to Midnight" as much as we did.
Thank you so much for your kind interest in our plays!
Your Nauseates
---
About us
Since 2000, Actor's Nausea has performed more than 25 plays in the English language. The group originated in Mollie Jackson's slightly different language course and has since evolved into a registered association (est. 2017) with close ties to the Department of English, American and Romance Studies at RWTH Aachen University. Our members are mainly students and former students – English studies being just one of many of our member's fields.
"What's Lampenfieber [the German word for stage fright] in English?" – "I don't know… 'actor's nausea'?"