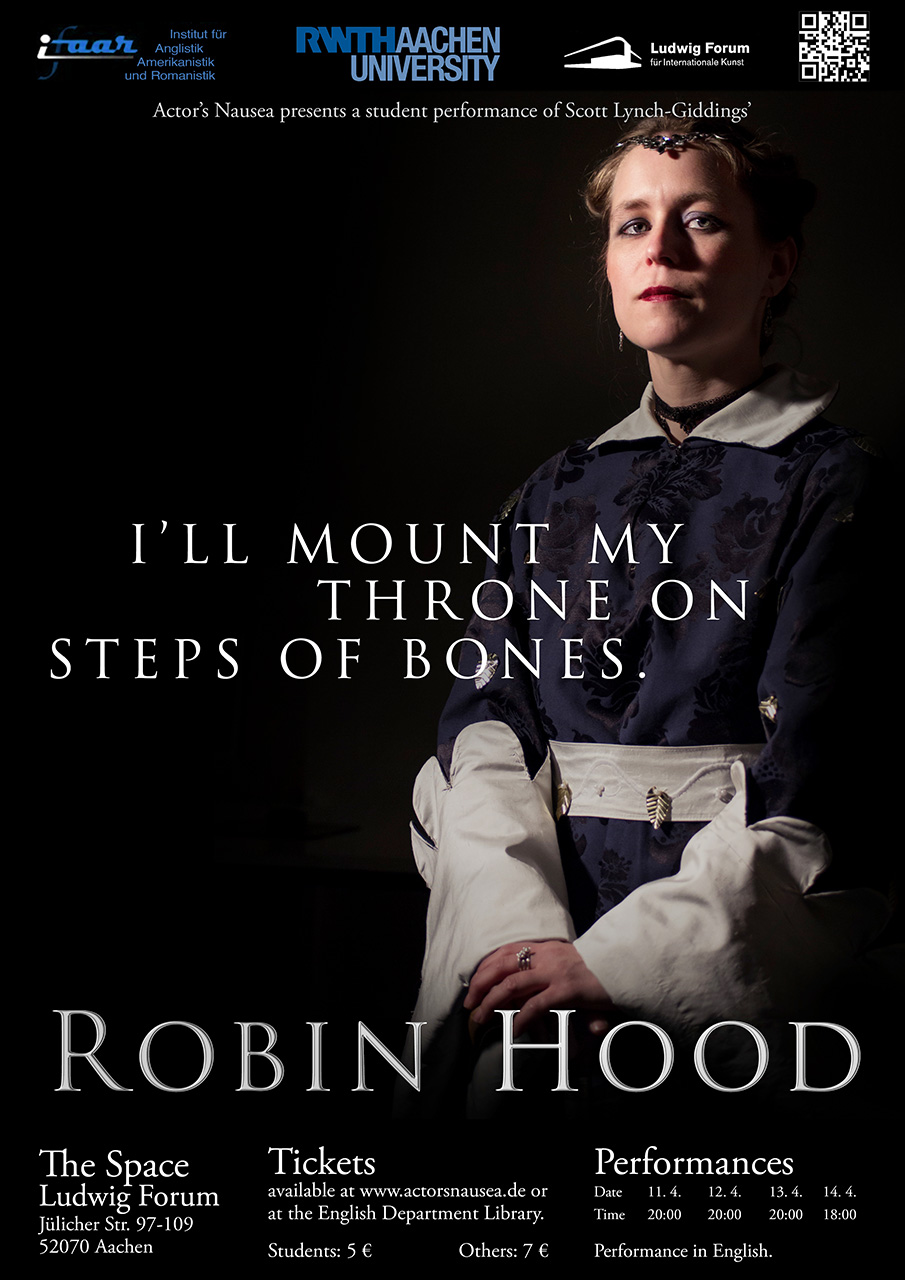 Robin Hood
by Scott Lynch-Giddings
(Original Title: "A Fancifull Historie of That Most Notable & Fameous Outlaw Robyn Hood")
Spring 2013
London. The palace. The infamous Sheriff of Nottingham receives his knighthood from Countess Joan for "worthy services engaged in apprehending felons to the state" when a herald from Austria arrives, carrying word of the capture and imprisonment of King Richard as well as a ransom note. England's population suffers from the growing taxes forced upon it by the countess and her coconspirators and outlaws gather in Sherwood Forest to fight the oppression.
Who doesn't know the story of the famous outlaw Robin Hood which has accompanied and inspired mankind for centuries? Now it's time for Actor's Nausea, the English-speaking theatre group of RWTH Aachen University to take on the legend! With a healthy amount of wit, the usual ingenious cast and directed by Elisabeth Raasch, you are invited to relieve the epic adventures of Robin Hood and his band of merry men once again in a fashion never seen before* – guaranteed without tights!
Scott Lynch-Giddings' adaption of the Legend of Robin Hood was first performed in 1995 in Chicago. It was produced by Equity Library Theatre at Chicago Dramatist's Workshop. Written in the fashion of a Shakespearean play, A Fancifull Historie of That Most Notable & Fameous Outlaw Robyn Hood contains just the right balance of wordplay and swordfight to thrill the audience and make it smile.
* debut performance in Germany
Directed by
Elisabeth Raasch (née Kuth)
Assistant to the Director: Julia Fink
Cast
King Richard the First of England, called "Cœur de Lion" – Julia Glock
Countess Joan of Oxford, Princess of England, Richard's sister – Julia Fink
Archbishop Walpurga of Rouen, Lady Chancellor of England – Kathi Kröcker
Earl Robert of Leicester, one of King Richard's loyal friends – Charis Luvangadio
Bishop of Coventry, a high clergyman at court – Anne Ruh
Sir Henry Falconberg, High Sheriff of Nottingham – Tilman Floehr
Lady Ricarda de la Lee of Wakefield, a penniless knight – Sonja Kellermann
Robert Turneham, son of the Earl of Huntington, and called "Robin Hood" – David Lorch
Abbot of Boxley, one of King Richard's loyal friends – Kathi Kröcker
Much the Miller's Daughter – Kathi Kröcker
Sister Tuck – Néomi Havinga
John Lyttel – Nils Kuphal
Will Scarlock – René Glebke
Reynold Greenleaf – Tim Claahsen
Greve, a deputy – Zoé Rehder
Gravend, a deputy – Anne Ruh
Culp the Carter – Charis Luvangadio
Joanne-le-Parkyson, an archer – Anne Ruh
Queen Elinor of Aquitaine, Richard's and Joanne's mother – Katharina Hirsch
Lady Marian – Miriam Piel
Sabina, Marian's maid – Ye Yuan
Maud – Katharina Hirsch
Herald – Tim Claahsen
Austrian Ambassador – Zoé Rehder
Minstrel – Nina Neidhardt
Provost – Zoé Rehder
Keeper – Tim Claahsen
Messenger – Sonja Kellermann
Bailiff – Charis Luvangadio
Extras
Afruz Badiei, Susanne Evans, Jonas Freiwald, Lukas Hensel, Vera Simon
Organisation
Costumes
Cast
Special thanks to Elisabeth Raasch, Lars Raasch and Maria Theißen
Make-up and Hair
Kathi Kröcker
Afruz Badiei, Tatiana Kutz, Nina Neidhardt
Stage
Sonja Kellermann
Julia Fink, Tilman Floehr, Julia Glock, Kyul Han, Cast
Props
Katharina Hirsch, Anne Ruh, Cast
Special thanks to Condra e.V.
Fighting Scenes Choreography and Training
Lars Raasch
Afruz Badiei, Tilman Floehr, Néomi Havinga
Music
Susanne Evans, Julia Fink
Light and Sound
Matthias Schaffrath
Public Relations
Julia Glock
Kathi Kröcker, Charis Luvangadio
Posters and Programme
Thomas Michalski
Nils Kuphal, Miriam Piel
Finances and Homepage / Ticket Reservation
Box Office
Tobias Cronert, Tobias Grosskreutz
Bar
Lars Raasch
Sincere Thanks to
Mr. Scott Lynch-Giddings for generously helping us to bring Sherwood Forrest to life.
Afruz Badiei, Lucia Balsamo und Magda Wodzynska (preStep), Sarah Bingham, Jan Brückner, campuslife.de, Condra e.V., Design AG des Gymnasiums Haus Overbach, Thomas Erlinghagen, Rolf Everding (WEG Merowinger Residenz), Tobias Grosskreutz, Kyul Han, Michael "Hilli" Hildebrandt, Familie Kellermann, Christiane Kessel, Markus Klausen (Center TV), Klenkes Stadtmagazin Aachen, Christine Knorr, Tatiana Kutz, Kai Kuzina, Hans-Peter Leisten (Aachener Zeitung), Ludwig Forum für Internationale Kunst, Miriam Meinardus, meinestadt.de, Thomas Michalski, Justine Moerman (Hitradio Aachen), Jürgen Osthoff (Bibliothek des Instituts für Anglistik und Amerikanistik der RWTH Aachen), Lars Raasch, RWTH Aachen Institut für Anglistik, Amerikanistik und Romanistik, Prof Dr. Ludwig Deringer, Prof. Dr. Peter Wenzel, Ulrike Stalinski; Matthias Schaffrath, Matthias Scherff, Alexander Schmidt (Super Sonntag), Sophia Schmitz (Hochschulradio Aachen), Anne Sundermeier
and everyone suporting us with dedication every day!
Gallery
Poster Variations